Here in this post, we will discuss how to enable proxy in TELEGRAM, why proxy is needed and most importantly what is proxy in TELEGRAM. Nowadays, every one is using telegram for texting, business and man more. Despite the fact that initially Telegram was conceived solely as a messenger, over time it has grown into something much more. Now it is more appropriate to call it a social platform where people not only communicate, but also blog, join groups, read news, share media files and even use it as a cloud storage for their data. In general, a universal thing.
What is a proxy ??
A proxy is a service or a function as part of another service that allows you to make the user anonymous by connecting him to the site or application he needs through an intermediate server.A proxy, unlike a VPN, does not encrypt traffic, but it anonymizes the user.A proxy differs from a VPN in that it only anonymizes the user, acting as a buffer between him and the service to which he connects, but does not encrypt traffic, while VPN encrypts it, preventing third parties from intercepting it.
The purpose of a proxy server is to make sure that the provider does not see that the user is connecting to a blocked service or site. In this case, blocking will be impossible, because there will be no interaction with banned IP addresses. However, proxies are a two-way story.
It allows you to anomize the user not only in front of the provider, but also in front of the service itself, which is convenient if, for example, the service itself blocks users from the country of your location. For example it was blocked in russia, it still makes sense to know where the menu with proxy server settings is located and how to connect them.
How to set up a proxy in Telegram/How to enable Proxy in TELEGRAM
STEP 1:

Launch Telegram and go to the "Settings" tab;
STEP 2:

From here, go to the settings section "Data and memory";

STEP 3 :

Scroll down to the bottom and select "Proxy";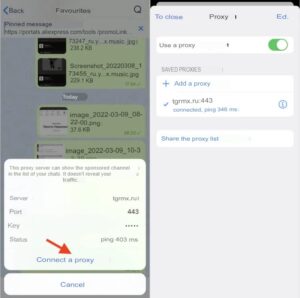 STEP 4 : Turn on the "Proxy" item and connect to a proxy server.
If you enable proxy in Telegram for the first time, there will be no proxy servers available there. You need to add them yourself. The messenger itself has entire channels dedicated to the topic of bypassing blocking. They publish fresh proxy servers on a regular basis.
You can try on this ——>>>> LINK1
You can try on this ——>>>> LINK2
To add a proxy to Telegram , just click on the link and click "Add proxy" in the messenger interface. If the connection is successful, you will see the signature "Connected", and next to it is a ping. This is the delay in signal transmission speed in milliseconds, which is associated with the use of intermediate servers that act as a cushion between you and Telegram.
Since Telegram proxies are free, and their creators need to earn something, the messenger allows them to place ads. It will appear as a separate group or channel above your chats, marked with the "Advertise" postscript. It is impossible to hide it. But this is a fee for using the service to bypass blocking. However, proxy servers often stop working, and then it becomes impossible to connect to them. In this case, simply replace the failed proxy with another one
YOU MAY ALSO LIKE —–> HIDE LIKES IN FACEBOOK 
YOU MAY ALSO LIKE —–>GET EMAIL ID USING PHONE NUMBER
Also read:
Hack Google Chrome Dino Game with a 1 Line of Code