In this post you will know that  how to Get E-mail ID from Mobile Number , whether you want to find your forgotten ID or want to know someone else's email ID from his mobile number. All this you are going to learn in this post today. 
At present everyone uses social media like Facebook, Twitter, WhatsApp. It also makes a lot of their public information like their numbers or emails.
If you want to find someone's email only from their mobile number, then Truecaller  is what you can use.
From TrueCaller, you can discover that not only email, but also many more information about the mobile phone number. We know how-
Get E-mail ID from Mobile Number Trick
To know how to know the email ID of the mobile phone number, you must install the TRUECALLER application on your phone or go directly to https://www.truecaller.com/ Website. Here you will get the option to search mobile number after logging in. It makes a name and information on the email ID phone number that is found.
It only gets limited searches on the website, so you can download your application from the PLAYSTORE on your Android's phone, so you can know the details of any number.
Step1– Install Truecaller app on your phone or go to website www.truecaller.com
Step 2- Here enter the mobile number for which you want to know your email id.
Step 3- As soon as you are looking for, you will get all the details and the email ID of that number in front of you.
Although there is a huge database in this application and gets the email ID of the best number, but sometimes you may not be able to see the e-mail ID in TrueCaller.
If this happens, you can adopt this second method. If you have forgotten your email ID, you can know by following these steps to Get E-mail ID from Mobile Number 
How to Know Email Id from Mobile Number (Your email-Id):
If you have forgotten your email id, you can find it with your mobile number, but you can do this only if you have added your number while creating your email id.
If you have created your Gmail ID or any email provider such as Yahoo Hotmail, the same method will work at all. Follow these steps-
Step1- Open Gmail on your phone or PC and click on Forget email.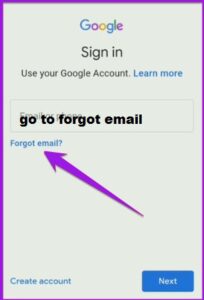 Step2- Here now enter your mobile number and click Next.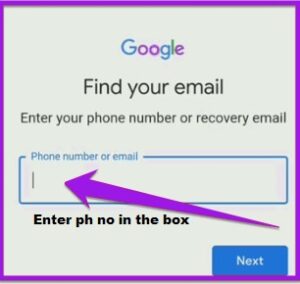 Step3- Now fill your name with the name with which the id was created.
Step4- Gmail will send a code to verify your number, which should be received by clicking on Send.
Step5- On the next step, you have to fill the code which came on your phone number.
Step6- After the number is verified, you get your required email id
In this way, if you want, you can also find out the email id of someone else, but for that you have to verify the mobile number and fill the correct name from which the id has been created.
Without verifying the mobile number, you can know the email id only  trough Truecaller.
Final words on How to Get E-mail ID from Mobile Number :
So every time you make an email ID, then definitely add your cellphone number so you can restore it again if you forget the password or ID.
Hope you have liked the information of how to know email id from mobile number , for any queries do comment and aslo check your other contents HERE.
Also read:
Hack Google Chrome Dino Game with a 1 Line of Code